Sponsors
Without the support of these wonderful companies, this event might never have risen above ground level! Please show your appreciation by supporting them as much as you can.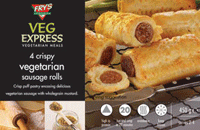 Beanie's Health Foods
Beanie's Health Foods have been importing FRY'S Vegetarian Foods since 2002. Beanie's aim to import good, wholesome vegan food, i.e. frozen products that have not been tampered with, added to or enhanced! Beanie's aim to ensure their stock has been produced responsibly, without harming the environment or exploiting workers. Their delicious vegan goodies will help fuel us during this event, and they're also donating toward our event costs.
Bute Island Foods
On a distant and mysterious Scottish island these people somehow produce the world's most delicious vegan cheese (sheese). We have no idea how they do it, but as addicts we're well past caring. We were thrilled to finally discover a way to secure a free supply of their sheese! Climbing mountains seems a small price to pay, and their oddly energising sheese will help to keep us going.
Shambhu's Vegan Caterers
These wonderful vegan cooks provide vegan catering for meetings, conferences, private parties/functions, and other events, and weekly lunch deliveries to the central/inner London area. Their supply of vegan flapjacks will be invaluable in fueling us during this challenge. Their vegan cheescake is also to die for, so we are now trying to work out which mountain we need to climb to be sponsored with cheesecake!
Veganicity
Veganicity from Health Plus is a range of 76 nutritional supplements designed to help support the vegan lifestyle. 100% animal friendly, all products are Vegan Society registered. We have an array of their energising, antioxidant and multivitamin products to help us train for and complete this challenge. Sourced from an Amazonian vine, their guarana tablets contain natural caffeine and other natural stimulants, which we hope will help us to successfully climb 15 mountains, covering 48 km, without any sleep.
Vegetarian Shoes
This Brighton-based company supplies premium vegan shoes to customers worldwide, and kindly supplied us with some top vegan hiking boots for this event. We relied on these exclusively during the Vegan 3 Peaks Challenge 2009, and know them to be hard-wearing, waterproof and very, very comfortable.