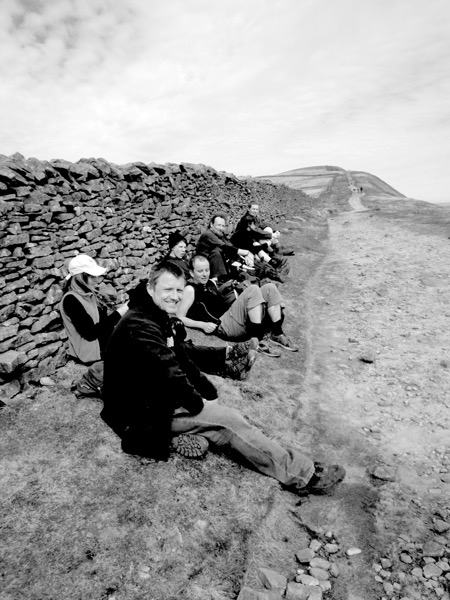 After successfully completing the UK's Vegan 3 Peaks Challenge in 2009, the Extreme Vegan Sporting Association needed a bigger challenge. Accordingly, on the 5th of June, 2010, they took the next logical step: the Vegan 15 Peaks Challenge!
Into the chilly pre-dawn mountain air of Snowdonia, Wales, at the horrifying time of 04:15 AM, an all-vegan team of two women and six men departed towards a precipitous vertical ridge. After scaling Crib Goch's infamous knife-edged pinnacles, they continued on towards the summit of Mt Snowdon – Wales' highest peak, at 3,560 feet. From there they proceeded to climb all of Wales' fifteen 3,000 foot peaks – in the same day! They finished at the far end of Snowdonia, close to midnight.

The official 15 peaks route covers 21.5 miles (35 km) and requires 9,800 feet (3,000 m) of ascent, and was completed in 17 hrs 30 mins. Yet not even this was enough punishment for Team Vegan, so they also ascended Crib Goch and Mt Snowdon (most teams start there) and ascended an additional summit twice (interpretation: they can't navigate). In total they covered around 27 miles (43 km), and ascended around 4,000 m, in 20 hrs 15 mins. For both their training and challenge they relied solely on vegan boots and gear, and were fueled entirely by vegan food, some of which was supplied by their kindly sponsors.
All bar one of the team successfully limped, crawled and moaned their way up the final summit, and the sole exception came from a country very close to the North Pole. Yet fighting off nausea he still managed to complete most of the course, and was only eliminated by the blazing sun after climbing a series of particularly punishing mountains during the exceptionally hot afternoon.

As part of their preparation, the team also completed the Yorkshire 3 Peaks Challenge on the 11th of April, hiking 23.5 miles (38 km), and climbing 5,250 feet (1,600 m), in around 11 hours.
As committed vegans, however, they enjoyed certain important advantages, such as higher antioxidant status ― which speeds exercise recovery. They were also kept mostly on-course and alive by the skilful Mountain Leaders from the veg-friendly (and in fact, simply very friendly) Lupine Adventure Cooperative.

Team Vegan used this challenge to fundraise for several worthy animal charities, and minimised their environmental impacts by leaving no litter, using mountain paths, and, to the extent possible, neutralising the carbon emissions created by their travel ― by sponsoring a local tree-planting charity (no sponsorship funds were used for this).
Most importantly, however, they and their equipment were entirely vegan! Why is that important? Because animal agriculture is one of the largest contributors to global warming and species loss (1-3). It is, of course, also frequently cruel to animals, and bad for human health. 
References
1. Brown LR. Plan B 4.0: Mobilising to Save Civilisation. New York: WW Norton & Co. 2009.
2. Goodland R and Anhang J. Livestock and climate change. World Watch 2009 (Nov. – Dec.): 10-19.
3. Steinfeld H et al. Livestock's Long Shadow: Environmental Issues and Options. Rome: Food and Agriculture Organisation of the United Nations. 2006.
Extreme Vegan Sporting Assoc.